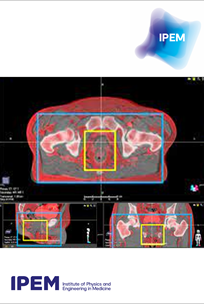 Topical Report - Guidance on the use of MRI for external beam radiotherapy treatment planning
Published by the Institute of Physics Publishing Ltd on behalf of IPEM
This document gives guidance for multidisciplinary teams within institutions setting up and using an MRI-guided radiotherapy (RT) treatment planning service. Next, practical guidance is given on the following, in the context of RT planning: training and education for all staff working in and around an MR scanner; RT patient set-up on an MR scanner; MRI sequence optimisation for RT purposes; commissioning and quality assurance (QA) to be performed on an MR scanner; and MRI to CT registration, including commissioning and QA. Published: March 2021
Scope
The development and application of theoretical, computational and experimental physics to medicine, physiology and biology. Topics covered are:
therapy physics (including ionizing and non-ionizing radiation)
biomedical imaging (e.g. x-ray, magnetic resonance, ultrasound, optical and nuclear imaging)
image-guided interventions
image reconstruction and analysis (including kinetic modelling)
artificial intelligence in biomedical physics and analysis
nanoparticles in imaging and therapy
radiobiology
radiation protection and patient dose monitoring
radiation dosimetry
Papers on physics with no obvious medical or biological applications, or papers which are almost entirely clinical or biological in their approach are not acceptable.