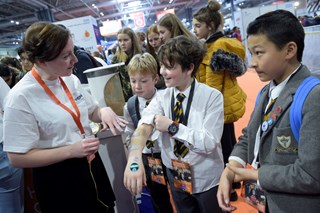 IPEM works to raise awareness and understanding of medical physics and clinical and biomedical engineering and to encourage dialogue between our profession, patients and the public.
Most of our outreach work is delivered by our members, who volunteer their time to take part in careers fairs, hospital open days, schools talks or other events. To help them, we provide outreach advice and ready-made activities.
National events
We regularly contribute to national events, such as the Big Bang Fair, and "I'm a scientist, get me out of here", which are held in March every year.
Outreach
IPEM also provides schools resources and support for various key stages, as well as careers information for school pupils and university students.
If you would like to get involved with IPEM's outreach programme please contact eva@ipem.ac.uk

Public lectures
IPEM helps to organise and support public lectures on medical physics and biomedical engineering topics. These are held around the country, in collaboration with other outreach organisations.

International days
IPEM is involved in and supports two major international days to raise awareness of medical physicists and clinical engineers.
Global Clinical Engineering Day is a worldwide celebration of clinical engineering, taking place on 21 October.
The International Day of Medical Physics takes place on 7 November.

The Science & The Scientists
IPEM produces a series of leaflets and posters aimed at the interested public and which members also use for outreach. 'The Science & The Scientists' aim to explain the science behind some commonly used medical treatments and introduce the scientists, engineers and technicians responsible for developing and delivering them.