IPEM Membership
Developing the professional, improving healthcare, transforming lives together.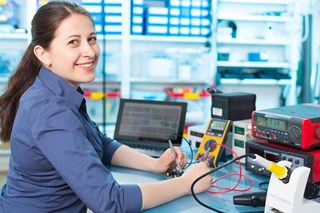 IPEM is the professional home for more than 4,500 medical physicists, clinical engineers and clinical technologists.
IPEM membership provides practical help, a network of support and a unified voice for our range of members drawn from across the medical physics and clinical engineering spectrum (and at all career levels and stages) to enable them to grow in professionalism through learning and development, to develop their professional networks and communities, and to be part of an impactful organisation advocating to improve health through physics and engineering in medicine.
We offer:
Professional development
Membership provides excellent learning and development services that meet the needs of the professional community of physicists, engineers and technologists working in physics and engineering in medicine and biology in hospitals, academia, and industry. Including:
Professional status
Opportunities to learn and develop through our training and events
Free registration for Chartered Scientist and Chartered Engineer
Community
We are committed to growing and nurturing a vibrant community of practice, with high professional standards at its core, outstanding volunteer engagement and a real commitment to equality, diversity, and inclusion. Discover:
A UK-wide and international network of members
Opportunities to volunteer and support the profession
Special interest groups and online discussion forums
Leadership
We aim to champion the importance of professional knowledge and innovation, identifying and raising awareness of the key challenges that lie ahead for physics and engineering in medicine and biology, and being a trusted and effective voice for the profession. Share:
A voice for our members in healthcare and public policy
Opportunities to shape the future operating environment for scientists, engineers and technologists in healthcare
Opportunities to develop guidance and research that shapes clinical practice and future thinking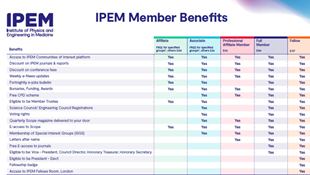 IPEM Members at all levels enjoy a wide range of benefits. Click here to find out what IPEM Membership has to offer you.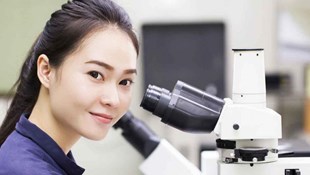 Find out more about specific levels of membership, apply to join IPEM or upgrade your existing membership here