IPEM welcomes everyone with a professional interest in medical physics and clinical engineering.
Meet some of our individual members.


Dr Georgios Ntentas, IPEM Full member
NIHR Clinical Lecturer & Senior Radiotherapy Physicist at Guy's and St Thomas' NHS Foundation Trust/KCL & Medical Physics Research Fellow at University of Oxford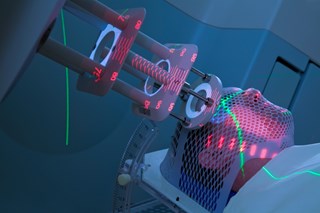 Tell us about a typical work day, what is your role and what does it involve?
Being in a Clinical-Academic role, I split my time between clinical radiotherapy work (2 days a week) and research (3 days a week). A typical clinical day involves using patients' scans to create their individualised radiotherapy treatment plans, what we call radiotherapy treatment planning, or measuring the radiation dose emitted by the radiotherapy machines using radiation detectors to ensure that the amount of radiation delivered to our patients is correct and safe. Optimisation and development work in our imaging devices and commissioning of new radiotherapy techniques can also be part of my clinical work.
There is no such thing as a typical research day! I am currently the Principle Investigator in a clinical trial where I scan cancer patients before and after their radiotherapy treatment using simultaneous cardiac PET/MR imaging to detect chemotherapy- and radiotherapy-related heart disease with the aim to reduce it in current and future patients.
I am also working on a number of collaborative projects with other researchers from the UK or international colleagues.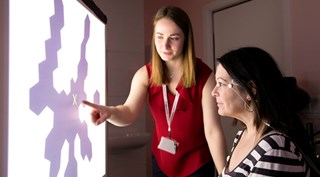 What's the best thing about your job? which elements of your job do you like the most?
Combining clinical work with research is by far my favourite part, research can be very exciting and offer you independence but it can also be very daunting and demotivating if you don't see any application/use of it in real life for prolonged periods of time, which happens all the time by the way…
Translating research into clinical applications and seeing how it can impact patient care is very motivating and rewarding. Also, at the moment through running my clinical trial I get a lot of patient contact. We physicists are not used to that and in the beginning I was quite nervous (I would even write down a whole script before calling a patient to make sure I don't make any mistakes or come across unprepared..🙂) I now am more confident and relaxed and fully enjoy these interactions, working with patients is humbling and remind us the reason we are working in cancer care.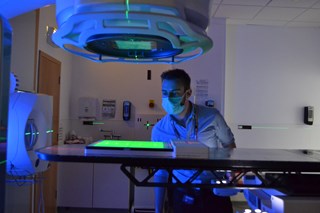 What are the biggest challenges you see – either for yourself or the sector?
We all have seen the IPEM report Inquiry into radiotherapy and are aware of the cancer crisis, more investment in radiotherapy services is needed urgently to try and maintain our treatment targets. Staff morale has been seriously affected over the last 2 years during the pandemic and other challenges such as strikes etc. and we see an ongoing exit of our NHS colleagues to the private sector or going abroad due to low pay or low morale and prospects.  
Unfortunately, one of the first victims of staff and funding shortages is usually research and development. I worry that demoralised staff and managers with no funding to spare for R&D activities and roles will lead to a fully clinically-focused radiotherapy service and workforce in the NHS and lead to less medical physics innovation and research impact within the UK. It would also diminish the UK's role and status in radiotherapy care and research worldwide.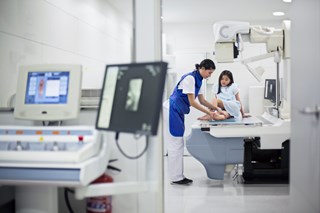 If you could change one thing about the profession or your area of specialty, what would it be and why?
As you probably expect from the above, I am biased on this but I think more combined clinical-research roles in radiotherapy physics are needed. Physicists should drive and push innovation and new ideas in the departments. Roles with some protected and funded time for us to utilise our scientific and analytical skills to drive change and innovation is needed in every department. 
I know you said one thing, but I will add one more! I believe Medical Physics departments should start hiring computer scientists with strong programming background as full members of the physics team. With the increasing need of AI, big data and modelling in our sector we need properly specialised staff to tackle these challenges. There are too high expectations from current medical physicists to write code and perform computing tasks that most of us simply do not possess the skills or the time for.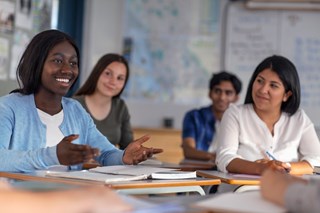 What accomplishment have you been most proud of in your career?
Securing my current NIHR Fellowship to run my own clinical study is definitely one of the main things I am most proud of in my career. And that is because it came as a result of many years of hard work and effort. But let's not forget one unsuccessful attempt a few years back from which I learned a lot. This is an important thing I want to stress, failure to secure funding or publish a paper on the first or even more attempts is part of the process, it's not the end! It is never easy to face a rejection but this shouldn't put us off from trying.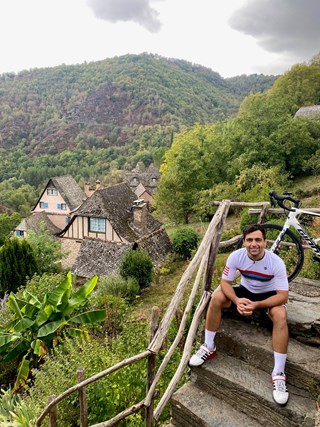 What do you do in your free time?
I love travelling with my partner and visit family abroad (we are both originally from Europe). Also going on cycling holidays and holidays with friends. I also love spending time with friends in London and explore the city and going to festivals, gigs and clubbing.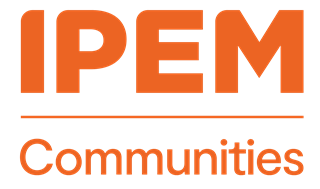 Why did you join IPEM and how do you engage with the Institute?
I joined IPEM as a medical physics trainee back in 2012 as I wanted to engage with other trainees and network. It was the first year of the STP so it was very helpful attending the induction days run by the then IPEM trainee network that guided us through the training.
During the first years I became a member and then co-chair of the IPEM Trainee Network and organised induction days and events for Trainees from all over the UK. I was also the trainee rep on the IPEM Science Board for two years. Then I left to do my PhD so I was not involved for a few years but the last few years I am back as a full member and looking forward to new opportunities within the Institute.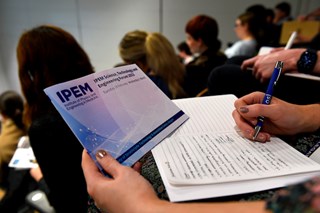 Which IPEM member benefits do you value or use the most?
IPEM's work with policy makers and standing up for our profession is probably one of its most valuable contributions, we need a strong voice in parliament to ensure our professional rights and workforce planning is taking into consideration Medical Physics and Clinical Engineering needs.
I also attend scientific meetings and use them as opportunities for CPD and networking.
What does (or should) IPEM do to help you in your career?
IPEM has helped me develop my leadership and professional skills through my involvement in volunteering for the committees and networking opportunities. The last highlight was a recent Healthcare Early Career award I received from the institute which was a great honour.