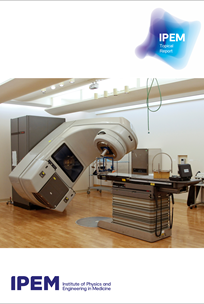 Topical Report - An international IPEM survey of MRI use for external beam radiotherapy treatment planning
Published by the Institute of Physics Publishing Ltd on behalf of IPEM
Despite growing interest in magnetic resonance imaging (MRI), integration in external beam radiotherapy (EBRT) treatment planning uptake varies globally. In order to understand the current international landscape of MRI in EBRT a survey has been performed in 11 countries. This work reports on differences and common themes identified.
Scope
The development and application of theoretical, computational and experimental physics to medicine, physiology and biology. Topics covered are:
therapy physics (including ionizing and non-ionizing radiation)
biomedical imaging (e.g. x-ray, magnetic resonance, ultrasound, optical and nuclear imaging)
image-guided interventions
image reconstruction and analysis (including kinetic modelling)
artificial intelligence in biomedical physics and analysis
nanoparticles in imaging and therapy
radiobiology
radiation protection and patient dose monitoring
radiation dosimetry
Papers on physics with no obvious medical or biological applications, or papers which are almost entirely clinical or biological in their approach are not acceptable.