Second recipient of IPEM international award announced
26/09/2023
THE second recipient of an IPEM international award recognising the challenges medical physicists and clinical engineers can face in Low and Middle Income Countries (LMIC)* has been announced.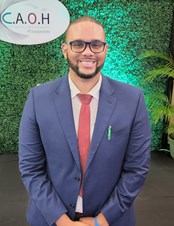 Rahje Shields is a medical physicist and radiation safety officer at PRAD Radiation Partners in Jamaica and has been awarded the LMIC Sponsorship Award, which was launched four years ago.
The award seeks to support future healthcare leaders in the field of physics and engineering in medicine from low and middle income countries.  The award is particularly focused around supporting the development of professional activities within LMICs with an ambition to increase access to these services for future generations of physicists and engineers.
Mr Shields is a member of the Jamaican Association for Physics in Medicine (JAPM) and a STEM ambassador for the Scientific Research Council (SRC) Jamaica.
STEM ambassador
His personal experience of cancer as a caregiver in an ill-equipped healthcare system, and the need for education about the use of ionizing radiation within the medical and dental sectors, led him to become a STEM ambassador.
Mr Shields said: 'I applied for the LMIC Award to seek mentorship and collaboration with a society that shares my values and goals. As the incumbent awardee, I aim to execute projects to address the challenges for the betterment of my country and the Caricom region.
'I want to change the narrative around science and bring to the public a spotlight on the importance of medical physics in its applications for cancer screening, prevention, and therapies.
'As a STEM ambassador, it is my mission to help curtail the lack of zeal toward science and to inspire the upcoming generation about its application and opportunities in unconventional pathways, such as medical physics and clinical engineering. This is imperative, as the students of today are the scientists and engineers of tomorrow.'
Dr Claire-Louise Chapple, IPEM's Vice President International, said: 'The panel were very impressed with the level of detail Rahje provided about his proposed project, and its potential impact on the local medical physics community.'
*LMIC is defined by the Organisation for Economic Co-operation and Development
Find Similar News
24/10/2022
IPEM member wins prestigious Institute of Physics award
28/07/2022
IPEM Annual Review 2021 published