Prizes and awards presented at STEF
A RANGE of prizes and awards were presented at the Science, Technology and Engineering Forum (STEF) in Glasgow.
The prizes, covering everything from President's Gold Medals to journal prizes, were presented by Dr Robert Farley, IPEM's President.
Dr Farley said: 'I was delighted to present the prizes and awards at STEF. Everyone who received one fully deserved their honour for their contribution to IPEM and the wider community. Well done to all of them.'
Professor Sir Jonathan Van-Tam MBE was presented with a certificate for his Woolmer Lecture on 'Communicating Science'.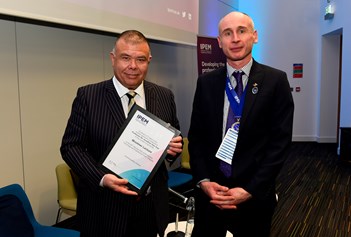 Professor Adrian Crellin CBE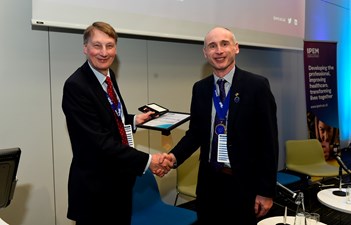 Professor Crellin is a leading professor in radiotherapy and proton beam therapy. He is NHS England's Clinical Lead for Proton Beam Therapy (PBT) and is a Consultant Clinical Oncologist at the Leeds Institute of Oncology.
He was made an Honorary Fellow of IPEM in recognition of his work in radiation oncology which has raised the profile of the science and transformed professional practice by bringing proton beam therapy to a clinical conclusion. 
Dr Elizabeth Parvin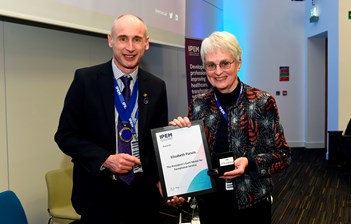 Dr Parvin is an Honorary Associate in the School of Physical Sciences for the Open University.
She received the President's Gold Medal for Exceptional Service for her work on Course Accreditation, in particular, the IPEM Masters Level Accreditation Framework, Outreach with Schools and Outstanding service as a IPEM volunteer over decades. 
Robin McDade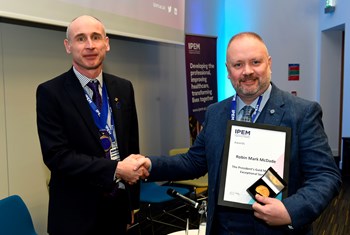 IPEM Fellow Robin McDade is an Advanced Specialist Clinical Technologist in the Nuclear Cardiology Department at Glasgow Royal Infirmary.
He received the President's Gold Medal for Exceptional Service in recognition of his outstanding service as an IPEM volunteer and his leadership in clinical technology.
Professor Richard Lerski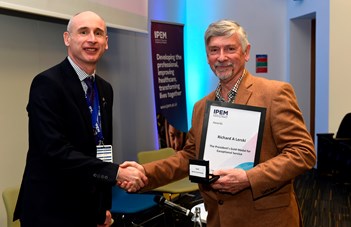 An IPEM Fellow, Professor Lerski is a retired Chief Scientific Officer of the Medical Physics Department at Ninewells Hospital and Medical School in Dundee. He recently stepped down from IPEM's Course Accreditation Committee.
He received the President's Gold Medal for Exceptional Service for his work on Course Accreditation, in particular the IPEM Masters Level Accreditation Framework, his work with the Association of Clinical Scientists , and outstanding service as an IPEM volunteer over decades.
Professor Bas Raaymakers, of the University of Utrecht, received a certificate for delivering the John Mallard Lecture on 'Hitting Tumours with the hybrid 1.5T MRI radiotherapy system'.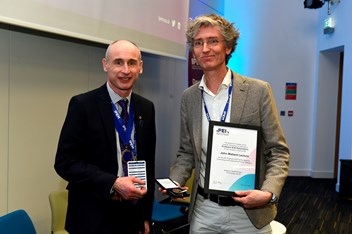 Dr Bill Thomson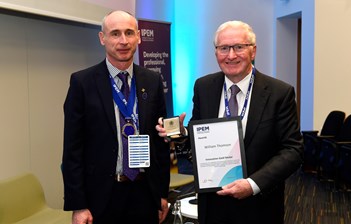 Dr Thomson is the former Clinical Director of the Physics and Nuclear Medicine and Radiopharmacy Directorate and Head of the Physics and Nuclear Medicine Department at Sandwell and West Birmingham Hospitals NHS Trust.
He received the Innovation Gold Medal for 'A Novel Technique for accurate quantification of Planar NM Images and Activity Measurement Systems'. 
Professor John Woodcock OBE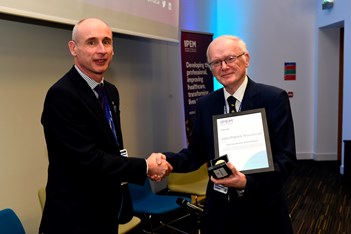 Professor Woodcock received the Academic Gold Medal for 'Ultrasound Imaging and in studies of the systemic circulation using Doppler Ultrasound'.
Dr Georgios Ntentas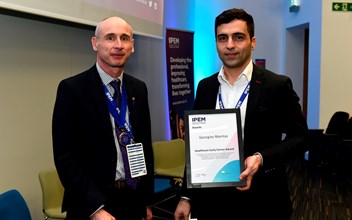 Dr Ntentas is a Senior Medical Physicist at Guy's and St Thomas' NHS Foundation Trust in London. He received the Healthcare Early Career award for Initiating and leading multiple research projects, including treatment-related cardiotoxicity and its prevention in lymphoma patients, collaborating with other clinicians and fostering links with other institutions such as the University of Oxford and the Prague Proton Therapy Centre. 
Elizabeth Davies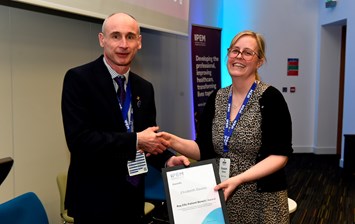 She is a medical physicist at University Hospitals of Leicester NHS Trust, who won the Roy Ellis Patient Benefit Award for her work in supporting the provision of better quality and more consistent information on radiation risk to patients. 
Dr Ben Oldfrey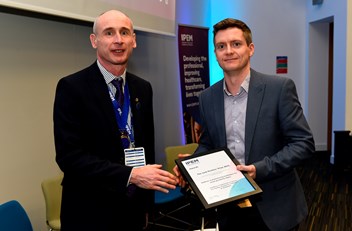 Dr Oldfrey collected the Jack Perkins Prize for best paper in Medical Engineering and Physics for a collaborative paper with A Tchorzewska, R Jackson, M Croysdale, R Loureiro, C Holloway and M Miodownik entitled 'Additive manufacturing techniques for smart prosthetic liners'.
Dr Jungwook Shin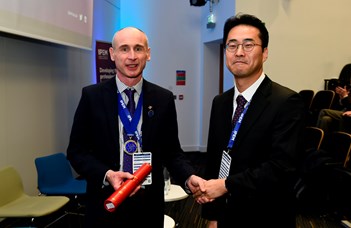 Dr Shin collected the Roberts Prize for best paper in Physics in Medicine and Biology for a collaborative paper with Shu Xing, Lucas McCullum, Abdelkhalek Hammi, Jennifer Pursley, Camilo A Correa, Julia Withrow, Sean Domal, Wesley Bolch, Harald Paganetti and Clemens Grassberger entitled 'HODOS – a computational tool to assess radiation dose to circulating blood cells during external beam radiotherapy based on whole-body blood flow simulations'.
Belinda Gorell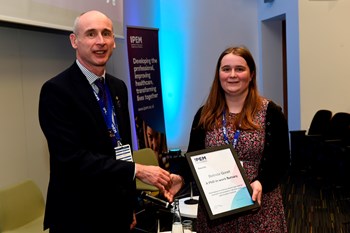 A Clinical Scientist at Velindre University NHS Trust in Cardiff, Miss Gorell was the first recipient of the IPEM PhD in Work Bursary for developing an evidence-based approach to neonatal and paediatric radiation dose optimisation methods. 
IPEM's prizes and awards recognise leading contributions of individual IPEM members to the advancement of their profession, in the application of physics and engineering to medicine and biology. Applications are now invited for this year's awards by following the link below.
Find Similar News
13/11/2023
Cautious welcome given to new Health Secretary
25/10/2023
Health Secretary's call to stop recruiting to EDI roles a 'distraction'