Prizes and awards for outreach
TWO IPEM members have won prizes and awards for their outreach work to educate the public about medical physics and clinical engineering.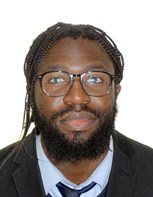 Dr Ejay Nsugbe, an independent researcher in upper-limb prosthesis control, was awarded IPEM's Spiers' Prize for Outreach.
He has been active in outreach for a number of years. In 2019 he won the "I'm an Engineer Get Me Out of Here" competition and was able to show his work on upper-limb prosthesis control to schoolchildren, showcasing how clinical engineering can bridge the gap between the limits of medical capabilities and patients' needs.
In 2020, he represented the Institute of Engineering and Technology on a project, which included the Royal Academy of Engineering, the Association of Female Women Engineers Nigeria, and University of West of Scotland, aimed at training 200 women teachers in sub-Saharan Africa towards the effective delivery of STEM content to students.
STEM for Britain
He was recently a finalist at the annual STEM for Britain event where he was invited to disseminate his research at the House of Commons to MPs and academics.
Dr Nsugbe said: 'The award feels so satisfying and feels like a culmination for years' worth of hard work and altruistic spirit.'
Another award winner is Elizabeth Davies, a medical physicist at University Hospitals of Leicester NHS Trust, who won the Roy Ellis Patient Benefit Award for her work in supporting the provision of better quality, more consistent information on radiation risk to patients.
She carried out a survey of the public and the results led to the development of www.informed-scan.com a website about medical imaging and radiation risks to educate both patients and the healthcare professionals that look after them.
Dr Robert Farley, IPEM's President, said: 'Congratulations to both Ejay and Elizabeth for their dedicated work to promote and educate the public about medical physics and clinical engineering, a cornerstone of IPEM's charitable objectives.'
Find Similar News
04/01/2023
SCOPE spring issue – deadline for articles
01/12/2022
Vacancy for Deputy Editor of MEP