First Science, Technology and Engineering Forum a huge success
THE first major IPEM event to be held since before the Covid-19 pandemic has been hailed as a huge success.
The Science, Technology and Engineering Forum (STEF) was held over two days at the University of Strathclyde Technology and Innovation Centre in Glasgow, attracting more than 220 delegates each day.
STEF featured some high-profile speakers, including Professor Sir Jonathan Van-Tam MBE and Carol Monaghan MP for Glasgow North West, who is a member of the House of Commons Science and Technology Select Committee.
Each day had specialty streams for radiotherapy, imaging and radiation protection, engineering, education and professional development, and on day two a number of teaching sessions and workshops, including on how to get published in journals and a radiation protection regulation refresher.
Posters submitted to STEF were displayed on e-noticeboards for viewing and discussion during the session breaks, with the best one, as judged by a panel, winning a prize.
John Mallard lecture
STEF was opened by Professor Paul McKenna, of the University of Strathclyde, Dr Robert Farley, IPEM's President, and Professor Andrew Reilly, Chair of the STEF organising committee.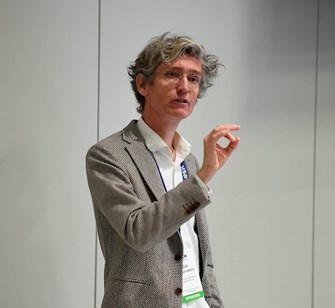 One of the keynote speakers was Professor Bas Raaymakers, of the University of Utrecht, who delivered the John Mallard lecture on 'Hitting tumours with the hybrid 1.5T MRI radiotherapy system' to a packed auditorium.
The programme saw a host of talks being held across both days, everything from Adaptive Radiotherapy to Medical Device Regulation, MRI updates to Addressing Challenges in Rehabilitation Engineering, the Clinical Safety of Healthcare IT Systems to the Workforce of the Future and Training Routes. A talk on Sustainability proved to be incredibly popular, with people even having to sit on the floor as the room was so full!
Professor Sir Jonathan Van-Tam MBE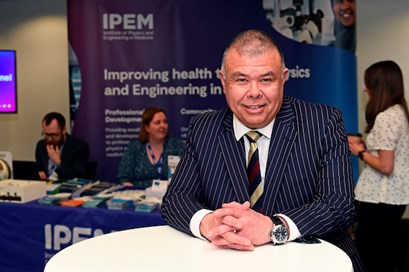 Despite being unwell, Professor Sir Jonathan Van-Tam MBE, the former Deputy Chief Medical Officer, was able to deliver the Woolmer lecture to a packed audience.
His talk 'Communicating Science during the Covid-19 pandemic' was a fascinating glimpse behind the scenes, full of anecdotes and humour, about communicating the science about Covid-19 to the public in a clear, simple to understand manner.
STEF also saw the official launch of the Clinical Scientist Guided Training Scheme, which is now open for applications, and the Low and Middle Income Countries Award for 2023, which you can read more about the first recipient of in the spring edition of SCOPE magazine.
Civic reception
Prizes and awards for 2022 were presented by Dr Farley, including the presentation to Professor Adrian Crellin as an Honorary Fellow, President's Gold Medals for Exceptional Service, Academic and Innovation Gold Medals, Early Career awards, journal prize winners and the PhD in Work Bursary recipient.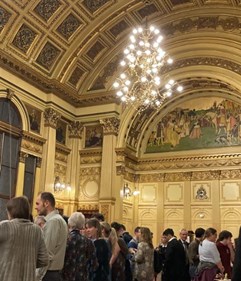 An industry showcase was sponsored by Varian and a civic reception was held at the impressive Glasgow City Chambers to bring the first day of STEF to a close.
Artificial Intelligence (AI) was a theme addressed in many talks, including Big Data, AI in Radiotherapy and Governance of AI, which featured the views and thoughts of Carol Monaghan MP on the subject.
The final session of STEF saw three notable abstracts being presented, President Elect Dr Anna Barnes gave a glimpse into how she hopes to see her presidency build on and develop the themes of leadership, professional development and community, and Professor Reilly looked forward to a special edition of IPEM Translation being produced to include papers covering the posters and presentations at STEF.
Submarine service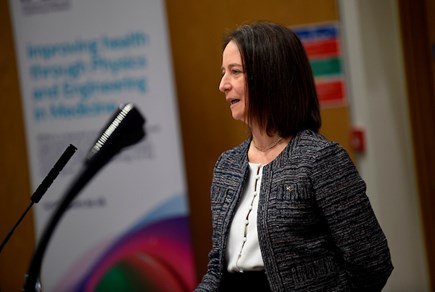 Carol Monaghan brought STEF to a close, giving her thoughts on the public and patient impact of the Medical Physics and Clinical Engineering (MPCE) community.
In her speech she likened the MPCE workforce to the submarine service, 'working silently and unseen', and hoped there would be greater collaboration between healthcare professionals, academia and industry to benefit everyone.
She acknowledged the issue of workforce challenges for the MPCE community and urged members to engage with their MP to bring their vital work to their attention. She thanked members for their STEM outreach activities and urged them to do more to a younger audience.
STEF 2024
As the curtain came down on STEF 2023, Dr Farley said: 'I want to thank all our delegates, speakers, exhibitors, sponsors, the organising committee, Glasgow City Council, the IPEM National Office staff and the staff at the University of Strathclyde for making STEF such a huge success.
'Due to the pandemic it has been a long time since we were able to meet together as a community like this. The organising committee have done a tremendous job and have set the bar high for STEF 2024!'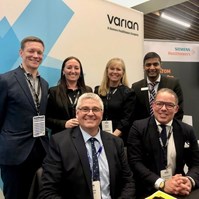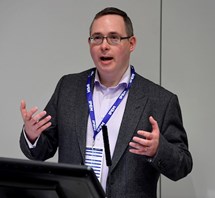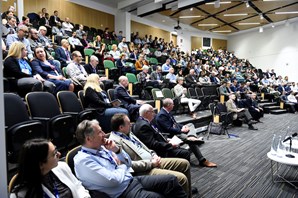 Find Similar News
13/11/2023
Cautious welcome given to new Health Secretary
25/10/2023
Health Secretary's call to stop recruiting to EDI roles a 'distraction'