Proton beam therapy expert is new Honorary Fellow of IPEM
A LEADING professor in radiotherapy and proton beam therapy has been made an Honorary Fellow of IPEM.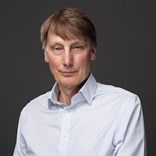 Professor Adrian Crellin CBE is NHS England's Clinical Lead for Proton Beam Therapy (PBT) and is a Consultant Clinical Oncologist at the Leeds Institute of Oncology.
He led the major innovative national radiotherapy project to introduce Proton Beam Therapy to the NHS in the UK. He also led a transformational programme for the NHS in the treatment of children and young adults with cancer to reduce long-term side effects of treatment and improved quality of life., which put the UK at the forefront of radiotherapy treatment in this rare group of cancers and clinical research.
Professor Crellin also derived and had approved a new NHS England methodology for PBT and the first four pre-commissioning studies, as well as small Registry Studies for rare cancer indications, where clinical trials are not possible.
Services to radiotherapy
He was awarded the CBE in 2019 for his services to radiotherapy and has received many other awards and accolades for his work in the field.
Professor Crellin said: 'It is a huge honour to receive this Honorary IPEM Fellowship. Nothing we do in modern radiotherapy is without the fullest integration of our professions.
'For me, making some advance and a higher priority for radiotherapy innovation including protons has only been possible with the immense help and guidance from wonderful physics and engineering colleagues.'
Dr Robert Farley, IPEM's President, said: 'Adrian is a true pioneer in radiotherapy and proton beam therapy and I feel honoured that we can now count him as an Honorary Fellow of IPEM.'
Find Similar News
05/09/2023
Leading researcher into radiotherapy for patients with breast cancer is new Honorary Fellow of IPEM
30/08/2023
More accurate radiotherapy to transform cancer treatment