Not just doctors and nurses – healthcare science workforce shortages putting patient safety at risk
A REPORT about the understaffing crisis in the NHS overlooks the chronic shortages in the healthcare science workforce.
The House of Commons Health and Social Care Committee's report suggests the NHS in England could be short of 12,000 hospital doctors and more than 50,000 nurses and midwives.
IPEM has repeatedly reported the shortages in the Medical Physics and Clinical Engineering (MPCE) workforce and called for urgent action to be taken to address this.
The latest IPEM Radiotherapy Workforce Census Summary Report, published in June, said staffing of radiotherapy centres is barely 'adequate' and there is little room for training new staff or implementing the latest treatment technologies to improve care.
The census also found there is a struggle to recruit Clinical Technologists and often difficulties in finding maternity and sick cover, leaving services strained, which has become even more critical due to staff absences caused by Covid.
IPEM research also highlighted the Diagnostic Radiology and Radiation Protection workforce to be at less than half the level recommended by established staffing models, with some services working at less than one-third of what is recommended, with almost 800 additional Clinical Scientists and technologists  needed.
'Not just doctors and nurses'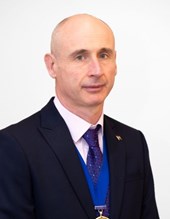 Dr Robert Farley, IPEM's President, said: 'Anyone working in the NHS knows there is a staffing crisis and that it is more than just shortages of doctors and nurses that are posing a serious risk to patient safety.
'IPEM has been reporting for several years about the acute shortages faced by healthcare scientists, such as medical physicists and clinical engineers, and has repeatedly called for action to be taken to address this.
'We need the Government to address the workforce crisis being faced across the NHS in general and in our professional areas in particular.'
Workforce reporting
Dr Jemimah Eve, IPEM's Head of Workforce Intelligence and Training said: 'Every time we carry out a census of the medical physics and clinical engineering workforce, we get the same response about workforce shortages, lack of investment and inadequate numbers of training places.
'The MPCE provides a critical role within modern healthcare and we regularly survey our areas of practice to understand and report on what the current situation is. The same messages are coming back loud and clear – we need investment in both people and equipment and we really need to see action taken to address this.'
Find Similar News
18/08/2022
IPEM is new HQ for medical physicists and biomedical engineers worldwide
17/08/2022
IPEM Fellowship application process streamlined