First recipients of new MRSE Certificate of Competence
THE first recipients of the new IPEM Magnetic Resonance Safety Expert certification scheme in the UK have been announced.
The IPEM MRSE Certificate of Competence opened in September 2021 and the first participants have now received their certificates.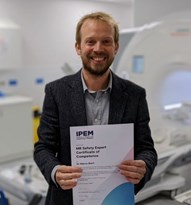 Dr Marco Borri is an IPEM Member and Clinical Scientist in the neuroradiology department at King's College Hospital NHS Foundation Trust in London.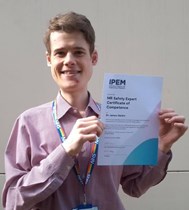 Dr James Harkin is an Associate Member and a trainee Clinical Scientist in the medical physics department at University Hospitals Dorset NHS Foundation Trust in Poole.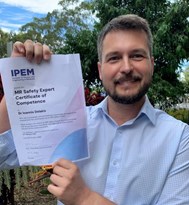 Dr Ioannis Delakis is an IPEM Member and a medical physics specialist in the medical physics department at the Prince of Wales Hospital in Sydney, Australia.
Knowledge and experience
The MRSE certification model IPEM has adopted requires both knowledge and experience. Successful applicants need to demonstrate knowledge by successfully completing the American Board of Magnetic Resonance Safety (ABMRS) MRSE exam. The MR experience of an applicant will be assessed from a structured portfolio demonstrating a broad range of MRSE activities. There are, however, no specific requirements, achievements, education, or certification requirements as to who can apply to take the MRSE examination.
IPEM's Professional and Standards Council in January 2020 approved a MRSE proposal from an IPEM task and finish group on the subject, which supported the knowledge and experience route to certification. This included the requirement to undertake the ABMRS MRSE exam as the process by which sufficient MRSE knowledge can be demonstrated.
IPEM has been represented on the ABMRS board of directors since 2015 and has contributed towards the development of ABMRS exam questions and standard setting. A Memorandum of Understanding between IPEM and the ABMRS was signed in September 2020 by Professor Stephen O'Connor, IPEM's Past President, and Dr Heidi Edmonson, Chair of the Board of Directors of ABMRS, which has helped to pave the way for the UK certification.
Dr Robert Farley, IPEM's President, said: 'I am delighted the first cohort of applicants have successfully completed the MRSE Certificate of Competence.
'This has been many years in the making and it is thanks to a dedicated working party that the scheme is finally up and running and we are now awarding certificates.'
For more information follow the link below.
Find Similar News
24/07/2023
ABMRS MRSE exam moves online
08/06/2023
Latest recipients of the IPEM MRSE Certificate of Competence