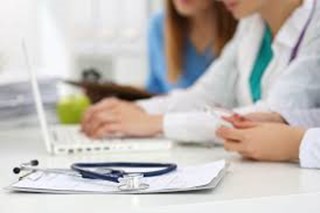 According to the Association of British Healthcare Industries (ABHI) the UK has 4,140 HealthTech companies in the UK, the vast majority employ less than 250 staff.  138,100 people work in this industry all across the country, with a combined turnover of £27.6billion. You can find out more information on the Association of British HealthTech Industries website.
There is a lot of potential work, but since many companies are small, they do not have a structured training scheme. So, this definitely needs some research on your behalf to target suitable companies as there is no central job resource.  Fortunately, the government publishes a list of all BioScience and Health technologies companies.  The 2017 database for this is searchable and can help you identify relevant companies that you can contact to find out about employment opportunities - for example you can search for companies involved in assistive technologies in Yorkshire). 
Larger companies like Siemens or Elekta have dedicated career sections on their website and some offer trainee programmes but this is not the norm.
If you want to look for internships and work experience the picture is similar, there is unfortunately no central resource with easy opportunities, but you could look at LinkedIn or speak to your university.
If you work in industry: Join IPEM as an Associate Member