Radiotherapy and the cancer crisis inquiry
AN INQUIRY into the cancer crisis facing the UK has been launched by parliamentarians.
The All-Party Parliamentary Group for Radiotherapy (APPGRT) launched the inquiry into radiotherapy provision across the country and its ability to cope with urgent present and future challenges in cancer care.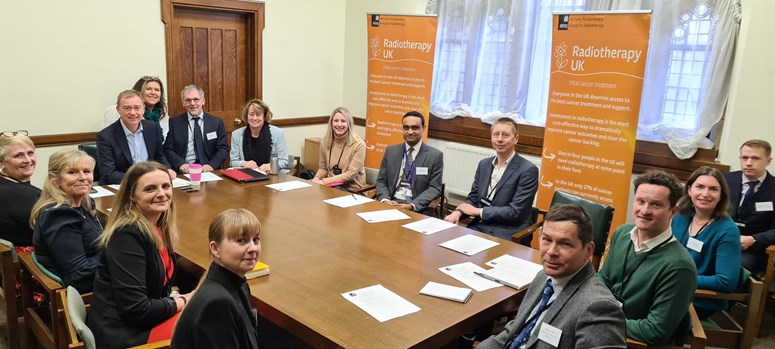 IPEM submitted written evidence to the inquiry, highlighting the need to address workforce shortages, funding to replace ageing equipment, increased access to Artificial Intelligence (AI) technologies and a review of patient access to services.
Nicky Whilde, Chair of the Radiotherapy Professional Standards Panel, represented IPEM at the inquiry session, which was led by Tim Farron MP, Chair of the APPGRT.   
The inquiry heard from representatives from the radiotherapy community, including frontline professionals, IPEM, the Society of Radiographers, industry representatives and a number of cancer charities.
The inquiry considered the ongoing issues with the delivery of UK radiotherapy services, how radiotherapy can support current and future cancer demands and what could be achieved with an appropriately funded and organised service.
Sarah Quinlan MBE, Director of Radiotherapy UK, said: 'We were delighted to have the opportunity to attend the APPG on Radiotherapy inquiry alongside professional bodies, frontline workforce and industry.  With appropriate investment and leadership, radiotherapy offers significant solutions to the current cancer crisis and has a key role to play if we are to meet the government's goal of delivering world-class cancer care in the UK.
'Such solutions will improve cancer patients' quality of life and survival.  We are grateful to the APPG Chair Tim Farron MP for his tireless efforts to secure much needed support and investment for this life-saving cancer treatment.'
The submitted written evidence, combined with the oral evidence given at the inquiry session, will inform a report of the inquiry's findings, which will be made available publicly in due course.
You can read IPEM's written submission to the inquiry by following the link below.
Find Similar News
05/09/2023
Leading researcher into radiotherapy for patients with breast cancer is new Honorary Fellow of IPEM
30/08/2023
More accurate radiotherapy to transform cancer treatment