AHA award for Innovation in Healthcare Science winners
THE winners of the IPEM-sponsored category in the Advancing Healthcare Awards 2022 have been announced.
The Award for Innovation in Healthcare Science recognised the vital contribution of science to healthcare delivery.
The winners of the award, announced at a ceremony in London, were Dr Kimberly Gilmour, Dr Stuart Adams and Adeboye Ifederu, of Great Ormond Street Hospital for Children NHS Foundation Trust, for their 'Severe Combined Immunodeficiency Screening programme' entry.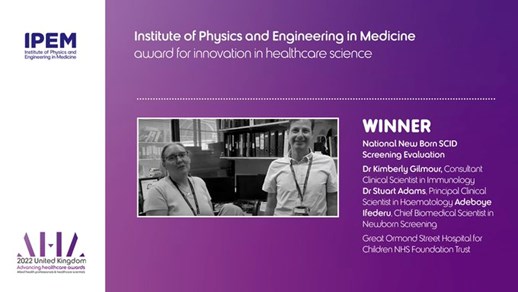 Dr Robert Farley, IPEM's President, said: 'Many congratulations to Kimberly, Stuart and Adeboye for their winning entry. The AHA awards celebrate the best of healthcare science and I'm delighted we sponsored this important award.'
Find Similar News
13/04/2022
New courses added to the MRI Safety elearning programme
01/04/2022
Webinar: Empowering Healthcare with AI