Informing our members of the latest developments
IPEM aims to inform its members of relevant developments in the areas of medical physics and biomedical engineering and technology.  We disseminate news to our members via a weekly news update, a monthly newsletter and a weekly news update, via social media on Twitter and LinkedIn, news stories on the website and via our quarterly members' magazine, SCOPE. 
Are you an IPEM member with news to share?
Have you won a large research grant?
Is your department involved in pioneering new medical equipment?
Do you need contributors for a survey or audit?
Have you been to an inspiring conference or event?
We can publish your news via the newsletter or as a news item. To submit news for dissemination to IPEM members please contact communications@ipem.ac.uk
IPEM's member communications also offer advertising opportunities. 
Working with the media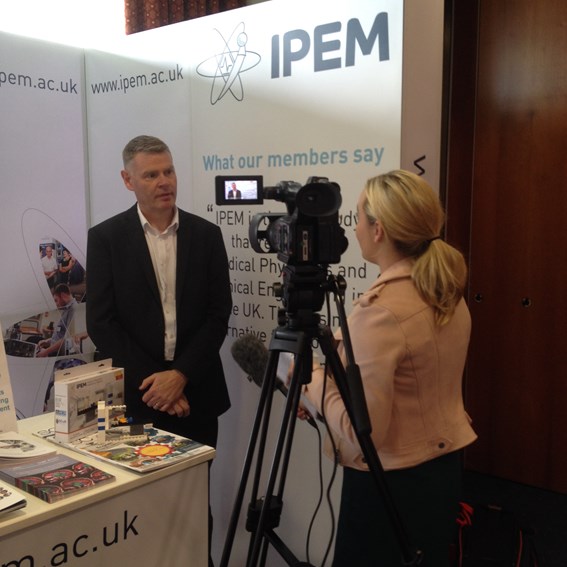 We seek to raise public awareness and understanding of physics and engineering in medicine by helping the media to provide accurate and timely coverage.  We do this by offering the media access to trained experts in the main fields of medical physics and clinical and biomedical engineering, who can comment on the latest developments or provide scientific advice or context. We also occasionally issue press releases, offer feature pitches and organise background briefings.
For media enquiries, please contact communications@ipem.ac.uk
IPEM supports the Science Media Centre, which provides journalists with what they need in the timeframe they need it. We provide experts to the SMC who give accurate, evidence-based information on science-related stories.
Voice of the sector
IPEM undertakes a variety of activities to help promote medical physics and clinical engineering. A list of subject matter experts is maintained to provide informed and accurate comment to the media on relevant stories, either directly or via the Science Media Centre.
The Institute produces policy statements, providing expert advice on a range of technical and scientific issues, and position statements, setting out IPEM's views on significant issues. 
Every year IPEM responds to a whole range of consultations from all sorts of public bodies, everything from government departments and House of Commons and House of Lords select committees, to NHS organisations and other regulatory bodies, such as the Health & Safety Executive. The expertise and experience of members is vital to enable IPEM to respond to such consultations with an authoritative voice.
IPEM is a member of the Campaign for Science and Engineering (CaSE), the leading independent advocate for raising the political profile of science and engineering in the UK.
The Clinical Imaging Board is a partnership between IPEM, the Royal College of Radiologists and the Society and College of Radiographers, which provides guidance, oversight and support for the continuing development of high quality clinical imaging services for patients in the UK.
IPEM sponsors the Science in Parliament magazine, the journal of the Parliamentary and Scientific Committee , and is accessible to members only. The magazine has two main objectives: to inform the scientific and industrial communities of activities within Parliament of a scientific nature and of the progress of relevant legislation; to keep Members of Parliament abreast of scientific affairs.