Day 2
I was crossing the road on a pedestrian bridge thinking about nothing in particular when, halfway across, the penny finally dropped and I said to myself quietly, "I'm gay", and a second time with more confidence, "I'm gay".  By the time I got to the other side of the road I was a changed person and felt so much better in myself.  Within a matter days I discovered that I was absolutely rubbish at staying in the closet: I think I broke the latch on the door when I opened it the first time, and started the process that continues to this day by coming out to my colleagues.  I didn't realise it at the time, but looking back, it was quite a brave (foolhardy?) thing to do and I have been pretty much 'out' from that point on. 
Since then the age of consent has slowly become equalised, Section 28 has been repealed (coincidentally, the same year that I stopped being an academic research chemist to retrain as a radiotherapy physicist), we have gained employment rights, civil partnerships, marriage and families.   However, despite the UK being one of the most LGBTQ+ tolerant nations in the world, there is still a lot of work still to be done.[1]  
Whilst some LGBTQ+ people have near legal equality with cis-straight people, social attitudes lag behind legal rights.  The prejudice that trans people are experiencing now in the UK is absolutely shocking, with 12 % of those in employment having experienced a physical attack from a colleague or customer in the past year.[2] 
Non-binary characteristics are generally poorly understood and homo-, bi- and trans-phobia are still all too prevalent: a 2017 survey report noted that 10 % of LGBTQ+ people had experienced this form of physical abuse personally directed towards them in the previous month and that 58 % of gay men don't feel comfortable holding their partner's hand walking down the street.[3]   (I include myself in this, never having held my husband's hand in public anywhere other than a safe, queer space; however, I did foolishly try holding a partner's hand once in the mid-1990s in what we thought was an empty street, to hear a cry from behind of "****! Look! Poofs! Get 'em!", or words to that effect.  We were then chased down the street by a group of young men.  Fortunately at the time, we were also relatively young men and amazingly, out-ran them, but I've never tried it again.)
These are just some of my own experiences, but it is clear from the rapid change in legal and social attitudes to LGBTQ+ people that the experiences and perceptions of different generations can be very different and also that those experiences can translate different areas of an individual's life, such as their workplace and how they access different services such as healthcare. 
Tomorrow's blog will look at both these areas and explore possible roles for Medical Physics and Clinical Engineering.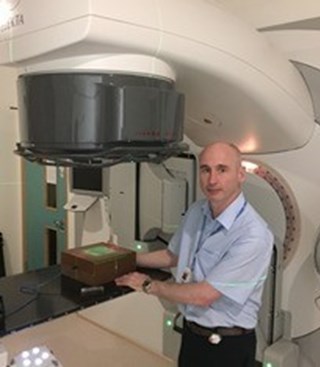 LGBTQ+ history is as old as human history itself and yesterday's account doesn't even begin to scratch its surface.  One of the things that started to occur to me as I wrote these blogs, however, is that they are, in some weird way, my history.  I was just born partially legal, was less than a year old when the Stonewall riots occurred and like so many LGBTQ+ people, I grew up feeling different, but not knowing how or why.  I remember seeing the devastating footage of the AIDS epidemic on the news in my teens, the demonstrations against Section 28 at university and experienced the constant, aggressive homophobia that pervaded UK society at that time.   I remember being strangely fascinated by these things but didn't know why; which just added to my confusion.  By the early 1990s I was a postgraduate research student in chemistry in my early to mid-twenties, and at that time I wasn't in a great place personally, to put it mildly; but one afternoon, that all changed.
[1] The May 2019, ILGA Rainbow Europe Annual Review of LGBTI Human Rights ranks the UK 9th in Europe with an overall score of 62% achieved LGBTI human rights.  The categories with the lowest rankings are: hate crime & hate speech (39 %); legal gender recognition and bodily integrity (47 %); and Asylum (50%).   Further details may be found here.
[2] Stonewall UK & YouGov, LGBT in Britain Trans Report, 2018.
[3] Stonewall UK & YouGov, LGBT in Britain Hate Crime and Discrimination Report, 2017.