The lecture is held in memory of Professor Peter Wells CBE, a leading figure in medical ultrasound who pioneered the development of ultrasound for diagnosis and as a surgical tool.

He held many prestigious titles, including Fellow of the Royal Academy of Engineering (1983), Fellow of the Royal Society of Medicine (1984), Fellow of the Royal Society (2003) and Founding Fellow of the Learned Society of Wales. His work was recognised through numerous awards including the Royal Medal from the Royal Society and the Sir Frank Whittle Medal from the Royal Academy of Engineering.
The next Peter Wells Memorial Lecture will be hosted by the Biomedical Engineering joint steering group and take place at the Institute of Engineering and Technology:
Ageing Science and Technology: is it possible to live longer than 120?
3 May 2023 (18.00-21.00)
Guest speaker: Professor Ronjon Nag, Adjunct Professor at Stanford University and President of R42 Group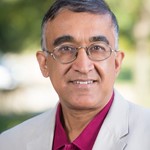 Is ageing another disease that can be ultimately cured? We will look at the biology of ageing and discuss what actually are age-related diseases, can lifespan be extended and are centenarians different? Additionally how can artificial intelligence create robotic and software assistants to improve the quality of life as we age and is living past 120 or even forever possible in any form?
Find out more and book your place HERE