Workforce shortages remain key to tackling NHS backlog, report says
BETTER workforce planning is needed to help the NHS cut record waiting lists for treatment, according to a new report.
Almost six million people in England are waiting for routine operations or procedures, a backlog caused by the Covid-19 pandemic.
A report from MPs on the Health and Social Care Select Committee has said plans to tackle the backlog are threatened on a number of fronts, including a need to address staff shortages.
The report's main recommendation is that by April of this year, the Department of Health and Social Care needs to work with NHS England to produce a wide-ranging national health and care recovery plan.
It also points out, however, the Government has resisted an amendment being made to the Health and Care Bill requiring it to publish independently verified assessment of health, social care and public health workforce numbers at least every two years.
IPEM figures
Data from IPEM's Workforce Intelligence Unit shows that across all specialisms within the medical physics and clinical engineering workforce there is a vacancy rate of between 9% and 11% - and this has been the case for almost a decade.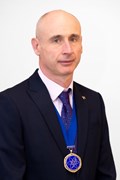 Dr Robert Farley, IPEM's President, said: 'The report highlights a key concern we have had for years about workforce shortages and it is extremely disappointing to see the Government has decided to ignore the amendment to the Health and Care Bill to publish workforce numbers every two years.
'We want to see real, reported workforce shortages treated as the critical strategic issue they are, and action taken to address them urgently. For example, in the Diagnostic Radiology and Radiation Protection specialism we know we currently have 330 qualified Clinical Scientists. The workforce needed to meet current staffing shortages and the planned growth from the expansion of imaging services recommended by the Richards Review means we are 450 below requirements. With only 15-20 scientists and even fewer technologists coming through training annually there needs to be a drastic change to training provision to ensure patients can safely benefit from NHS plans for expansion of diagnostic services.
'Our members are vital to providing a modern healthcare service to patients, working together alongside doctors and nurses and other healthcare professionals.'
Find Similar News
10/03/2022
Patients at risk of waiting longer for scans due to staff shortages
09/11/2023
Study finds CT scans create a small risk of blood cancer in young people - but benefits cannot be overlooked