White House honour for member of IPEM's ebooks advisory board
21/11/2023
AMERICA's highest honour for technological achievement has been awarded to a member of IPEM's ebooks advisory board by President Joe Biden.
Dr Rory Cooper was presented with the National Medal of Technology and Innovation for his outstanding contributions to engineering science during a ceremony at the White House.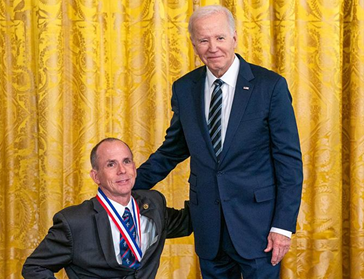 Dr Cooper is a Founding Director of the Rehabilitation Research and Development's Human Engineering Research Laboratory (HERL) at the University of Pittsburgh, where he oversees and conducts research to support the needs of disabled veterans and other individuals with mobility impairments. HERL holds 25 patents, and their inventions are used by more than 250,000 people every day.
He was also inducted into the 50th class of the National Inventors Hall of Fame at a gala in Washington, D.C.
Dr Cooper is a member of the IPEM/Institute of Physics Publishing ebooks advisory board. Around 30 ebooks have been published in the series since they began in 2017 and almost as many are currently in the pipeline.
Empowered lives
The National Medal of Technology and Innovation award announcement said Cooper has empowered the lives of millions of Americans. 'By inventing and developing cutting-edge wheelchair technologies and mobility devices, cultivating the next generation of rehabilitation engineers and championing wounded veterans and students with disabilities, he moves us closer to being a nation that is accessible for all.'
Dr Cooper has used a wheelchair since an accident in 1980, when he was serving in the Army, left him paralyzed from the waist down.
Together with his research team, he has developed several state-of-the-art innovations to overcome mobility challenges, including assistive robotic manipulators, a wheelchair that can climb curbs and uneven terrain, microelectrode brain-machine interfaces, transfer biomechanics, and even virtual reality.
'Changing the world for better'
At the White House ceremony, President Biden said to those receiving their honours: 'You are all so damn impressive. You're literally changing the world for better.'
He said the work done by the scientists helps 'remember what America is all about — possibilities. Anything's possible if we put our minds to it. And with you all, you have incredible minds. Thank you for what you've done so far. You've saved people's lives, you've changed the way we look at the world and you've made it better. I don't know how we could ask for anything more.'
Find Similar News
04/02/2022
IPEM Innovation Grant to help study walking difficulties in children
10/10/2023
Call for applications for roles with GCEA