Success for latest cohort of IPEM's Clinical Technologist Training Scheme
THE latest cohort on IPEM's Clinical Technologist Training Scheme (CTTS) have successfully passed their course.
The CTTS has earned a strong reputation in the sector, offering a robust, externally validated education and training framework for clinical technologists, and ensuring a workforce fit to practice.
Successful completion of the CTTS sees graduates awarded IPEM's Diploma in Clinical Technology and opens a route to joining the Register of Clinical Technologists (RCT).
The 23 trainees who recently completed the course and were awarded their Diploma in Clinical Technology included:
Bidisha Barman, Gloucestershire Royal Hospital NHS Foundation Trust
Rachael Cunliffe, Hywel Dda Health Board
Laura Davis, Newcastle Upon Tyne Hospitals NHS Foundation Trust
Connor Doherty, Golden Jubilee National Hospital, Clydebank
Richard Elliott, NHS Tayside
Adam Glover, Christie NHS Foundation Trust
Jonathan Greer, Belfast Health and Social Care Trust
Kiefer Holmes-Rawson, Leeds Teaching Hospitals NHS Trust
Liam Kilgour, NHS Greater Glasgow and Clyde
Laura Lonsdale, NHS Greater Glasgow and Clyde
Beth MacGugan, NHS Greater Glasgow and Clyde
Alastair McLuckie, NHS Tayside
Jack McNeill, NHS Greater Glasgow and Clyde
Fraser O'Neil, NHS Greater Glasgow and Clyde
Catherine Rafferty, Belfast Health and Social Care Trust
Jolene Richardson, NHS Greater Glasgow and Clyde
Struan Robertson, NHS Tayside
Joseph Walkin, Christie NHS Foundation Trust
Gregory Waltham, Birmingham Community Healthcare NHS Foundation Trust
Danielle Watson, Christie NHS Foundation Trust
Rhodri Williams, Christie NHS Foundation Trust
Wai Lok Harold Wong, Swansea Bay UHB
Some of those who recently passed the CTTS have given their reflections on it.
Rachael Cunliffe, clinical technologist at Withybush Hospital, Haverfordwest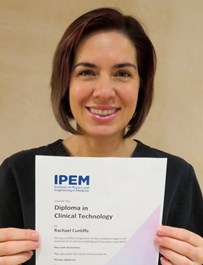 'I have worked in the radiology department at Withybush Hospital for nearly 13 years, mostly as assistant practitioner in general radiography. The last 3.5 years have been spent in nuclear medicine, training to be a clinical technologist. I have to admit that I found studying for this diploma intense and difficult at times, trying to juggle work and family life whilst writing my portfolio was not easy. I did, however, enjoy learning new skills and I have gained enormous confidence in my role as a clinical technologist.
'I feel proud of my achievement and cannot believe that I passed with distinction, that really does make all the hard work worth it!
'Looking to the future I would like to complete the MSc in nuclear medicine and eventually go into nuclear medicine reporting. I advise anyone wanting to progress in their career to keep working hard, it's never too late to learn!'
Struan Robertson, clinical technologist at Ninewells Hospital, Dundee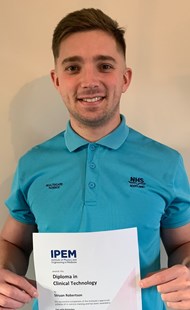 'I'm incredibly proud to have passed the technologist training scheme. The past two years have been a rewarding but challenging experience. The scheme involved a large portoflio, viva and practical assessment.
'I have been very well supported throughout my training with opportunities to develop skills in a range of areas including NM, PET-CT and Radiopharmacy. I would encourage anyone with an interest in healthcare with a scientific background to look at becoming a technologist.
'I am really looking forward to continually improving my skillset and looking for further opportunities to advance my knowledge!'
Richard Elliott, clinical technologist at Ninewells Hospital, Dundee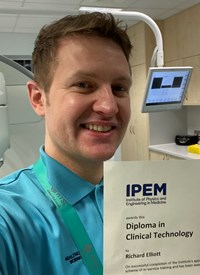 'I am delighted to receive my diploma. It has been a fantastic opportunity and going through the process of a mid-life career change these last two years has been challenging and very rewarding.
'I have been tutored by an amazing team who have provided all the support I needed to get me through the assessment process whilst learning the job. I am excited to continue in my role and consolidate my learning with more experience in this fascinating discipline.'
Valued course
Dr Jemimah Eve, IPEM's Head of Workforce Intelligence and Training, said: 'Well done to everyone who took part in the course. We had four times as many people enrolled in 2022, some 48 people, compared to 12 in 2019, and numbers had been generally dropping over the years. 
'I'm therefore delighted we have reversed this downward trend and this really demonstrates how valued the CTTS has become as a route to developing the technologist workforce.'
Dr Robert Farley, IPEM's President, added: 'I would like to congratulate all of the trainees on successfully completing their course and they are now eligible to join the RCT. They can also upgrade to Full Membership of IPEM and join more than 4,700 medical physicists, clinical and biomedical engineers and clinical technologists working in hospitals, academia and industry.'
Applications for the next intake of the course are now welcome and the closing date to apply is 31 March.
Find Similar News
26/10/2022
President's Gold Medals for Exceptional Service 2022
31/05/2022
Paper on guidance for MPE support for nuclear medicine published