Peter Mansfield Medal and Prize won by IPEM Fellow
AN IPEM Fellow has won a prestigious Institute of Physics award for her distinguished contributions to the field of therapeutic ultrasound.
Professor Gail ter Haar, Team Leader in Therapeutic Ultrasound in the division of Radiotherapy and Imaging at the Institute of Cancer Research (ICR), won the Peter Mansfield Medal and Prize for her work and for the development of methods for the the treatment of cancer in the clinic.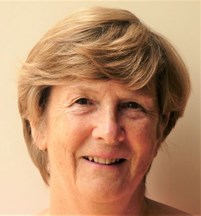 Professor ter Haar said: 'I feel very honoured to receive this award. I see it as recognition not only of me, but also for the exciting field of therapy ultrasound and all my collaborators over the years.'
Dr Robert Farley, IPEM's President, said: 'I'm delighted Gail has being honoured with the Peter Mansfield Medal and Prize. Her expertise in the field of therapeutic ultrasound is world-renowned and she is highly deserving of this honour.'
Ultrasound treatment of tumours
Professor ter Haar is a medical physicist who conducted her PhD at Guy's Hospital in London on the bioeffects of ultrasound interactions with tissue, and of its potential therapeutic applications.
At the ICR she continued this research interest as a basis for the ultrasound treatment of tumours. When the temperature of a tumour is raised with ultrasound by up to 10 °C, the dose of drugs or radiation can be reduced while still giving the required therapeutic effect.
High intensity focused ultrasound
More recently, Professor ter Haar's research has been into high intensity focused ultrasound (HIFU). Highly focused ultrasonic energy deposition deep within tissue, delivered through suitable acoustic windows on the skin, produces local tissue damage and necrosis. This selective targeting of tissue helps to treat tumours non-invasively, without the need for conventional surgery, and spares surrounding healthy tissue. Current systems employ magnetic resonance or ultrasound imaging to aid localisation and placing of the ultrasound focus.
Professor ter Haar's internationally recognised expertise has progressed the design and development of clinical prototypes, methods of calibration and thermal dosimetry of HIFU systems, and has expanded knowledge of the bioeffects used in treatments. She is one of the most prominent experts in the field of diagnostic ultrasound safety, and has helped develop standards for the safe use of ultrasound in pregnancy.
Find Similar News
13/09/2023
New ultrasound equipment checklist published
20/07/2023
Ultrasound physics workforce is overworked and under-appreciated, says new survey