First UK winner of international award is an IPEM member
AN IPEM member has become the first person from the UK to win a prestigious international award.
Ian Paddick received the Fabrikant Award at the biennial International Stereotactic Radiosurgery Society (ISRS) congress in Milan.
As well as being the first UK recipient, Mr Paddick also became the first sole physicist to receive the award.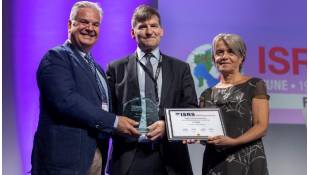 Mr Paddick is the founder of Medical Physics Limited, which provides expert radiosurgery physics services to SRS centres in the UK, Europe and the USA, as well as the manufacturers of the Gamma Knife, Elekta Instruments. He is also an Honorary Research Fellow at University College London.
The Fabrikant Award is presented every two years to an individual or individuals who are members of the ISRS and have made longstanding and significant contributions to the field of radiosurgery.
Fabrikant lecture
As part of his prize, Mr Paddick gave the Fabrikant lecture, which is also published as a paper in the ISRS Journal of Radiosurgery and Stereotactic Body Radiation Therapy.
His lecture covered the work he has had published, such as the Paddick Conformity Index, Gradient Index and Efficiency Index and the importance of being able to standardise treatments so that centres can compare their data.
Mr Paddick, who was the first physicist to serve as President of the ISRS, said: 'I'm truly humbled to receive this award. It's the first time a physicist has received the prize on their own and I'm also the first recipient from the UK.
'The award is usually given to radiation oncologists or neurosurgeons, but this year's award demonstrates that physicists are valued by clinicians and make a significant contribution to shaping clinical practice.'
Find Similar News
18/09/2023
Early Career Essay Prize 2023 winner announced
24/08/2023
War in Ukraine wins best article in SCOPE award