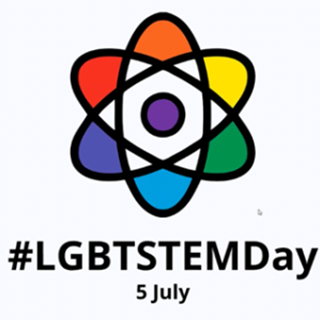 Day 5
The 5th July 2019 marked the 2nd International Day of LGBTQ+ People in Science, Technology, Engineering and Maths and once again it is wonderful to see the IPEM logo appear in the list of supporters. 
The date of the event was chosen with care by the organisers for several reasons: 
The date did not appear to conflict with any other awareness days or major events, such as LGBT History month
The date is in the middle of LGBTQ+ Pride season
It is also of significance that the 5th July is exactly one week after the 28th June, another date of importance to LGBTQ+ people.
The 5th July, when written in European notation with the suffix 'nm', i.e. 507 nm, represents the wavelength of green light and, in North American format as 705 nm, the wavelength of red light. Both these colours appear in the rainbow or LGBTQ+ Pride flag in which they represent nature and life respectively.[1] 
The aim of LGBTSTEM Day is to celebrate the achievements of LGBTQ+ people in STEM and raise  awareness of the challenges they face and, in doing so, reduce their feelings isolation and provide role models for the next generation of LGBTQ+ scientists.   One side effect of this campaign, as IPEM discovered last year, is that it is also a good way of raising awareness of lesser known scientific disciplines such as Medical Physics and Clinical Engineering to a wider scientific community than might otherwise be the case: the tweet that IPEM posted last year to mark the day received considerably more interactions than any other tweet that year!
LGBTQ+ STEM day provides an occasion to celebrate LGBTQ+ scientists and engineers, but there are now several other organisations providing year-round visibility. These include LGBTQ STEM, 500 Queer Scientists, Pride in STEM and INTER-Engineering and, for IPEM members there is also the LGBTQ Community of Interest.   The fact that a Professional Body such as IPEM has an LGBTQ+ support system in place is indicative of the huge change that has occurred over recent years; however, as far as diversity in the physical sciences and engineering is concerned, Medical Physics and Clinical Engineering are very much the leaders in the field. 
Professional bodies such as IPEM have a unique role to play in supporting LGBTQ+ scientists, as they operate beyond employer or academic institutional boundaries.   This provides the opportunity for LGBTQ+ scientists to develop professional networks for the sharing of information, mutual support and the discussion of issues within the profession and one way that IPEM facilitates such networking is through its virtual LGBTQ+ Community of Interest.  One feature of this type of professional network is its relative invariance through an individual's career; it being independent of employer and geographical location.
 As a professional body represents by its very nature an entire profession, it has an important function in collecting and analysing diversity data about those who work and study in the profession and addressing any barriers to inclusion encountered by specific minority groups.  There are a number of ways in which this can be achieved: one is through the bread-and-butter work of organisations such as IPEM is through influencing, developing and applying standards of best practice in the support of specific minority groups; a second is to provide support and mentoring to individual members (important for LGBTQ+ people as many are still not out to their employer); and a third is to raise visibility and awareness of LGBTQ+ scientists. 
Looking back over this week's blogs, it is clear that the acceptance of LGBTQ+ people has come a long way over the past 50 years, at least in the UK, and also that there is still a long way to go before we have complete acceptance.  For those who identify as LGBTQ+, I hope that there is something here that you can relate to and that those who feel isolated, are feeling a little less isolated now: be proud of who you are.  For those who identify as cis-straight, I hope that I have provided some insight into the three questions that I posed towards the beginning of this week, even if I haven't managed to answer them completely and that events such as Pride and LGBTQ STEM Day make a little more sense.  Most of all I hope that you feel able to be an LGBTQ+ ally; as allies are probably our most important resource in achieving true equality and inclusion.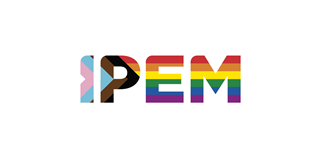 I shall end this blog as I started, with a question: what, if anything, can Medical Physics and Clinical Engineering learn from the experiences of the LGBTQ+ community?  After all, both are small, complex communities comprised of diverse identities or specialisms, both are often invisible to those they interact with and both can sometimes struggle to have their voices heard.  Perhaps, we should all take more notice on the 5th July, grab a stick of rainbow face paint and fly the IPEM flag with (or at) Pride.
[1] The rainbow or pride flag has evolved over the years and continues to do so.  The most common version of the flag today is the six stripe flag in which the colours red, orange, yellow, green, blue and purple represent life, health, sunlight, nature, tranquility and spirit respectively.   Recently a version with additional black and brown stripes to represent the ethnic diversity within the LGBTQ+ community has started to become more common.  There are also variations of the flag to represent different identities such as the pink, white and pale blue for trans identities and pink purple and blue for bisexual pride, for example.  Different LGBTQ+ subcultures also have their own flags, arguably the most well-known being that with stripes in shades of brown and grey, representing bear culture. For a guide to the different flags, see here.