MRI is very safe, but investment in staff and systems is needed to meet demand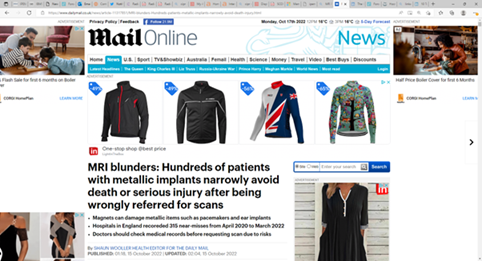 MRI blunders: Hundreds of patients with metallic implants narrowly avoid death or serious injury | Daily Mail Online
Dr. John McLean, consultant clinical scientist, deputy head of MR physics at NHS Greater Glasgow & Clyde and Chair of IPEM's MR Special Interest Group, responds to a recent newspaper article on MR safety.
The above article published on October 15th is undoubtedly sensationalist. Firstly it's important to say MRI is a very safe technique. Adverse events and near misses are very, very rare when set against the millions of scans conducted in the UK each year. It is also important to highlight there were no deaths in the UK as a direct result of MR scanning in the period the article covers.
When such a piece appears in mainstream media though it does offer an opportunity to respond to several points worth addressing. Namely, acknowledging that there are circumstances that make ensuring patient safety for MR scans more difficult. These include: receiving inaccurate information from referring clinicians; obtaining information from patients who are unable to answer safety screening questionnaires for themselves; and dealing with more complex active electronic medical devices such as pacemakers.
It also offers an opportunity to highlight the essential role of the Medical Physics and Clinical Engineering (MPCE) workforce in not only ensuring the safe design of MR units but also contributing as part of a multidisciplinary team to ongoing operational MRI safety. IPEM have consistently raised concerns about workforce shortages across healthcare science, including in this crucial area. These concerns mirror those of other crucial professional groups such as radiographers and radiologists. 
Systems improvements
We would highlight the need to improve hospital electronic recording systems for surgical and interventional procedures so that surgical teams can easily, clearly and accurately record the medical devices being implanted in the patient's record, and that this information is made easily available to other staff groups, such as the staff in MR departments.
We recommend greater education for medical referrers and the need to highlight devices of potential concern. This can be assisted by ensuring hospital electronic referral systems are designed to capture information from referrers for patients with devices of most concern.  Where they are not already in place, we recommend MR units develop processes for dealing with patients who cannot answer the MR safety questionnaire for themselves. 
Patient reassurance
The vast majority of patients with metallic implants, pacemakers, ear implants and aneurysm clips will be able to receive an MR scan, though there are some exceptions.  Therefore, if you have an implant and you are due to attend an MRI appointment and you are at all concerned, please contact the MR unit prior to attending to discuss your concerns. This is particularly important if your device is an active electronic implant such as a pacemaker, ICD, neurostimulator or cochlear implant. When you attend for your MR appointment highlight again the implant to the staff when completing the pre-screening MR safety questionnaire you will be given. It is important that you answer these questions honestly.  
The need for investment
Finally, and most importantly, is the need for investment. Magnetic resonance imaging (MRI) is a complex imaging procedure and requires a specialist multidisciplinary team to ensure patient safety, diagnostic accuracy and efficacy. Whilst there has been a significant increase in the number of MRI scans performed annually in the UK over the past decade, we have significant issues with training and recruiting the number of healthcare scientists we need. There is a need for investment in key healthcare professionals to provide education and training to other health professionals and for staff who can design MR units to optimise safety.
Beyond this, more staff are needed to implement safety procedures at both systemic and operational levels. These key staff groups are: MR radiographers, healthcare scientists, radiologists and, with respect to scanning patients with active electronic cardiac devices, cardiac physiologists. Investment in these professional groups will help to improve access to MRI whilst reducing the already very low adverse and near miss rate of MR safety events in the UK. Such investment would also ensure such events are recorded and learned from on the very rare occasions they do occur.
Delivering an effective, high-quality service requires investment in staff and we really need to see action taken to address this. 
Find Similar News
17/10/2023
MRI services in desperate need of scientific support staff, says new report
24/07/2023
ABMRS MRSE exam moves online