IPEM Science, Technology and Engineering Forum (STEF)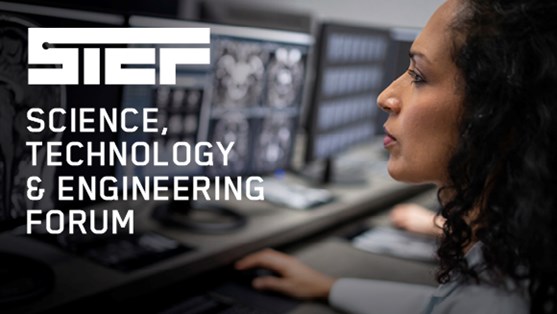 What is STEF?
THE IPEM Science, Technology and Engineering Forum (STEF) not only replaces the former MPEC event, but will bring together IPEM members and guests to consider the latest developments across the medical physics, clinical engineering and technology landscape, and the major healthcare science challenges that will impact the professions in the very near future.  
The Forum will champion the importance of professional knowledge and innovation, identifying and raising awareness of the key challenges that lie ahead for physics and engineering in medicine and biology, and will present an opportunity to come together in person to collaborate, innovate and accelerate knowledge and understanding as  a community. 
IPEM's highly regarded Biennial Radiotherapy Meeting will also be a key element of STEF, with further details to follow.
Where and when?
The event will take place at the University of Strathclyde, Technology & Innovation Centre, Glasgow on 28 February and 1st March 2023, and will showcase some of the most significant developments in different areas of medical physics and clinical engineering. Sessions will be built around radiotherapy, imaging and engineering, but will intentionally cut across traditional specialism boundaries, and explore the need for alignment and collaboration between healthcare, academia and industry.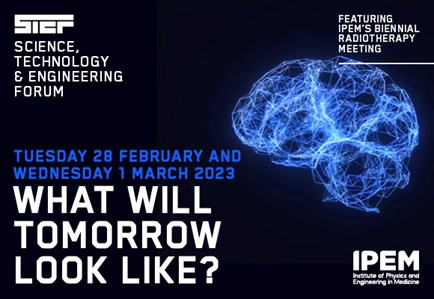 Guest speakers
Confirmed speakers to date include:
Matthew Simpson UK Health Security Agency with a demonstration of measurement equipment and walk through of a Radiation Monitoring Unit
Martin Hultman (and PI Christer Ahlström) of Linköping University, Sweden, winners of the Martin Black Prize for best paper in Physiological Measurement 2021 for their work: Driver sleepiness detection with deep neural networks using electrophysiological data
Dr Fiammetta Fedele, Guy's and St Thomas' NHS Foundation Trust on 3-D printing, from image to physical model
Grace Keane, University of Utrecht and Professor Roger Staff, NHS Grampian, on Molecular radiotherapy and brachytherapy
Dr Lorna Harper, NHS Greater Glasgow and Clyde on  governance of Artificial Intelligence
Professor Steve Smye on Physics for Life
Professor Gary Royle, University College London, on Radiation technologies for metastatic and / or recurrent cancers 
Dr John McLean, NHS Greater Glasgow and Clyde and Dr Geoff Charles-Edwards, Guy's and St Thomas' NHS Foundation Trust on Implantable devices in MRI
Science Leadership Strategy
Several of the grand challenges identified in IPEM's forthcoming Science Leadership Strategy, such as climate change, workforce, safety and security will be discussed, particularly in the context of how tackling these challenges will require the harnessing of emerging trends, technologies and enabling platforms expected to make a significant impact on the health and care landscape. Trends identified are:
Alignment and collaboration
Smart digitization
Personalised (or person-centred) health
Delegate bookings will open imminently.
Find Similar News
18/08/2022
IPEM is new HQ for medical physicists and biomedical engineers worldwide
17/08/2022
IPEM Fellowship application process streamlined